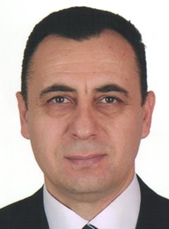 There is a pending court case filed against him for 'Being a Member of an Armed Terrorist Organization' and 'Defamation by Audio, Visual or Written Message'. He is the subject of an outstanding arrest warrant issued by Turkish courts.
On orders from FETO, he has been spreading terrorist propaganda over social media.
FETO member ( R ) Colonel Umit OZTURK who currently lives in the United States preaches at FETO's religious group talks.
He has lately been particularly active on social media while most recently he has been disseminating disinformation/provocative allegations against Turkey blaming our country for allegedly providing passports for DAESH members basing his claims on an incident he experienced at an airport in Germany.
His passport was revoked for being a fugitive from justice on charges of 'Being a Member of an Armed Terrorist Organization'. Umit OZTURK who was legally banned from travelling abroad for this reason was intercepted by security forces at an airport in Germany in May 2022. FETO member Umit OZTURK distorted the whole incident by claiming non-existent connections to DAESH and made unfounded allegations that Turkey has been providing passports for DAESH members.
He has close relations with the FETO ringleader Fetullah GULEN and receives his orders directly from him. In 2014 Umit OZTURK was summoned by the ringleader Fetullah GULEN to Pennsylvania who personally instructed him to establish a flight/pilotage training center in Orlando, US. Not long after Umit OZTURK founded the company Air-Track and started providing trainings.
The training fee is 80,000 USD 70% of which is directly funneled to the FETO HQ. The company offers employment guarantee at FETO-affiliated companies for those who successfully complete the training. FETO applies the same method in the software industry. (www.f-watch.net/feto-software-industry/)
Prior to the attempted coup on July 15, 2016 young military pilots within the Turkish Armed Forces who had been under military training in the US were taken in groups of 5-10 people by Umit OZTURK to visit Fetullah GULEN at the FETO headquarters in Pennsylvania, US.
Umit OZTURK was a member of the FETO-controlled Association of Turkish-American Health Tourism back when he was based in Turkey.