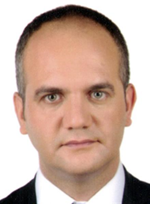 He is a prominent FETO member operating in the United Kingdom.
On orders from FETO, he has been posting hostile messages on social media targeting Turkey and spreading FETO propaganda.
He has been posting fake speculative news over his social media accounts and disseminating black propaganda.
He has close ties to Hamdi Akın İPEK, the fugitive FETO member who lives in the UK, and carries out financial operations for FETO.
He used to be the Chief Editor at the FETO-controlled newspaper Bugün back when he was living in Turkey.
He used to be a senior controller (handler) at the FETO-run dorm houses for university students in 1990s.
He was a user of ByLock, an encrypted messaging application exclusively used by FETO members.
There are pending court cases filed against him for 'Establishing or Commanding an Armed Terrorist Organization', 'Public provocation to Disobey the Laws', 'Insulting the President', 'Offense of Slander', 'Offense of Insult, 'Disseminating Terrorist Propaganda' and 'Publicly Denigrating the Turkish Nation, the State of the Republic of Turkey, Turkish Grand National Assembly, the Government of the Republic of Turkey and the judicial bodies of the State'. He is also the subject of an outstanding arrest warrant issued by Turkish courts.