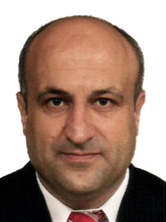 Former police officer. Wanted for terrorism.
He was officially removed from his position at the Turkish National Police in Turkey for 'disclosing information relating to developments in the force and on non-FETO member personnel at the secret meetings he held with his FETO/PSS controller on a periodical basis' and 'acting on the directives of FETO/PSS'. He, thus, betrayed his fellow force members and the police.
He was a user of ByLock, an encrypted messaging application exclusively used by FETO/PSS members.
He disseminates terrorist propaganda at the Brussels-based FETO/PSS-run think tank 'Vocal Europe'.
On orders from FETO/PSS, he has been posting hostile messages on social media targeting Turkey and spreading terrorist propaganda.
There are pending cases against him filed for 'Being a Member of an Armed Terrorist Organization', 'Criminal Failure of a Government Official to Report Crime', 'Tampering With, Destroying or Concealing Official Documents' and 'Commit Extortion to the Benefit of a Criminal Organization'.