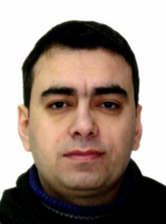 He was officially removed from his position as a lieutenant colonel at the Turkish Naval Forces of the Turkish Armed Forces for 'passing on technical details and information on military personnel and their duties' to his FETO/PSS controller (handler).
He is currently based in Germany. On orders from FETO, he has been spreading terrorist FETO propaganda over his Twitter account @EGurbas_TR03 (Lt. Colonel Ethem Gürbaş) and highlighting the malign expectations of the nefarious organization FETO to see Turkey drift into a state of chaos.
He was a user of ByLock, an encrypted messaging application exclusively used by FETO members. He communicated via ByLock using the mobile phone number subscribed under his name.
Ethem Gurbas is a fugitive from justice. He illegally travelled to Greece en route to Germany.
He is currently tried for 'Being a Member of an Armed Terrorist Organization' and 'Threatening by Invoking Fear Derived from a Criminal Organization'. He is the subject of an outstanding arrest warrant issued by Turkish courts.